Thalis Of India: Flavorful dishes In One Platter
Indian thalis are a wonderful assortment of dishes and essentially a celebration of food and cooking style of the region in the country. With rice or roti in the forefront, a thali typically comprises of a few starters or crisps, vegetables, gravy, dal, curd and of course dessert.
There are very few meals in the world that can match a thali's variety. All our taste buds are given quite a working with a flurry of flavours in every course.
Every state has something novel in their thali to lend uniqueness to their platter. Each region has its own version of the thali and as you move from one region to another, you'll be welcomed with a new platter, with quite an elaborate menu. The thali is perhaps the best way to explore any regional cuisine as you get to eat a little bit of everything.
Thali is a complete meal served on a single plate. With the eye-popping variety and an extraordinary quantity, a thali could comprise 10 to 15 dishes: Eating a thali requires quite the appetite. Don't bother ordering a thali unless you're ravenously hungry!
A thali is a celebration of food. In a city like Bangalore where there is so much on offer in terms of cuisines, we suggest some of the places that serve unique thalis. Read on!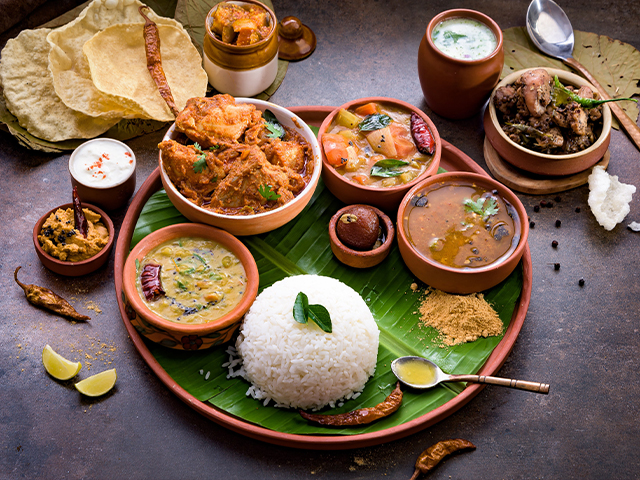 Andhra Gunpowder: Spicy Andhra thali
All those who want to taste authentic Andhra thali must visit Andhra Gunpowder. In case you're wondering what prompted such an explosive name for this restaurant, Gunpowder is an Andhra style chutney powder that is made from Channa Dal, roasted Bengal gram and garlic. It is generally served along with rice and ghee. Kandi Podi is another special chutney powder that is served with idlis, dosa, rice, and sambar. The unique flavour and spiciness is characteristic of Andhra cuisine. Pepper chicken, brinjal curry, Guntur chicken, tomato spicy rasam, and lentil sambar are some of the highlights of the famous Andhra Gunpowder thali. If you're not feeling up for it, the place serves exquisite rice bowls alongside vegetarian and nonvegetarian curries that are quite the treat. As with almost all Andhra places, Gunpowder serves terrific authentic Andhra Biryani.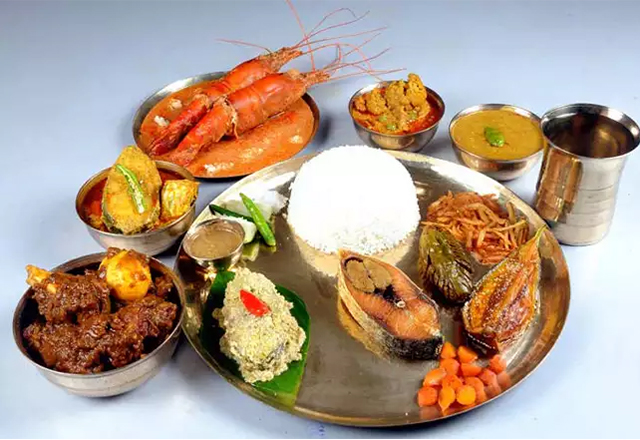 Bengali thali: Bhojohori Manna
Bhojohori Manna is the favourite haunt for those who crave Bengali food and especially authentic Bengali thali. The mix of sweet and spicy flavours will have you asking for more. Their Mini thala(thali) includes Luchi otherwise known as puri, Cholar dal made from chana, bhaja or vegetable of the day and the posto aloo dum that is essentially potato with poppy seeds. The meal also includes plain rice, pulao, chutney, sweets, and papad. Their bengali rice pudding is quite popular and people flock to this place to savour the Payesh.
A maxi thala includes all the dishes mentioned above along with ghee shukto, a Bengali appetizer that includes stewed veggies, and mishti doi. One can enjoy a lavish meal here at affordable prices.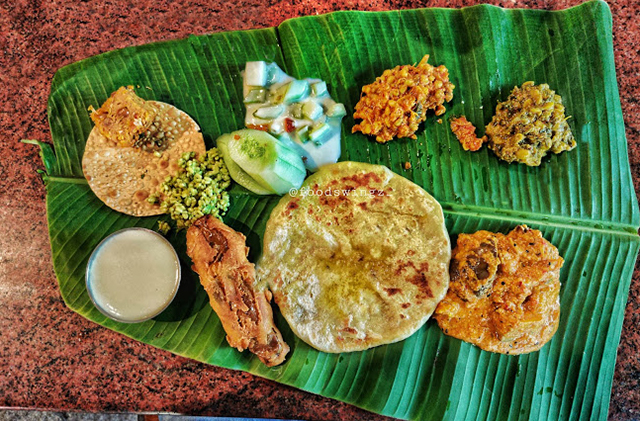 Kamat Lokaruchi: North-eastern Karnataka thali
Kamat Lokaruchi is famous for its North Karnataka meals or the Karavali meals. Karvali is the northern part of the Malabar coast along the Arabian sea. Vegetables like yam, elephant foot yam, colocasia, sweet potato, pumpkins, gourds, and jackfruits are very popular in this part of the world. The cuisine of a coast would always include coconuts and a lot of their dishes have a coconutty flavour.
The cuisine is wholesome and nutritious and balances a combination of cereals, pulses, vegetables, and spices.
The thali includes jowar roti, with veggies, pickle, buttermilk, payasam (kheer)and a dessert served along with ice cream. Though it is situated on the highway, the flavours will transport you to the coasts of the Arabian Sea. It is also popular for its authentic Konkan style dishes as well Mangalorean cuisine.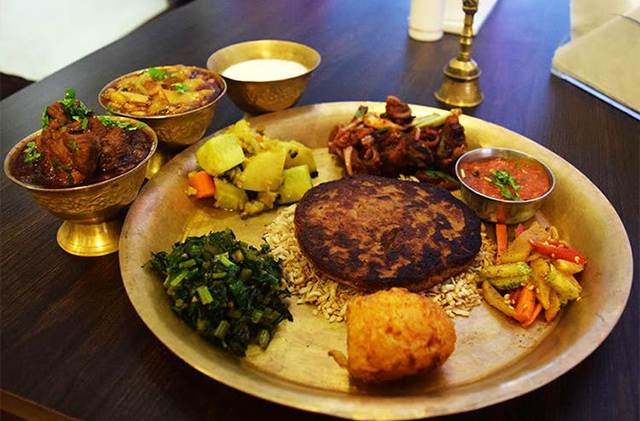 Bamey`s: Nepalese Thali
The ambience of Bamey`s Resto Cafe is quite youthful and full of life. It is the only restaurant that offers a full-fledged Nepali thali known as Thakali. A typical serving of Thakali plate would contain Dal, Bhaat, Tarkari along with Kanchhemba or Buckwheat finger chips with the Mustang Alu topped with Jimbu or Himalayan leaf garlic. Though it's low on desserts, the meal does end on a sweet curd or Phopké (fermented rice). The thali is a riot of colours with fresh red meat, green leafy vegetables and tangy chutneys made from tomatoes and radish.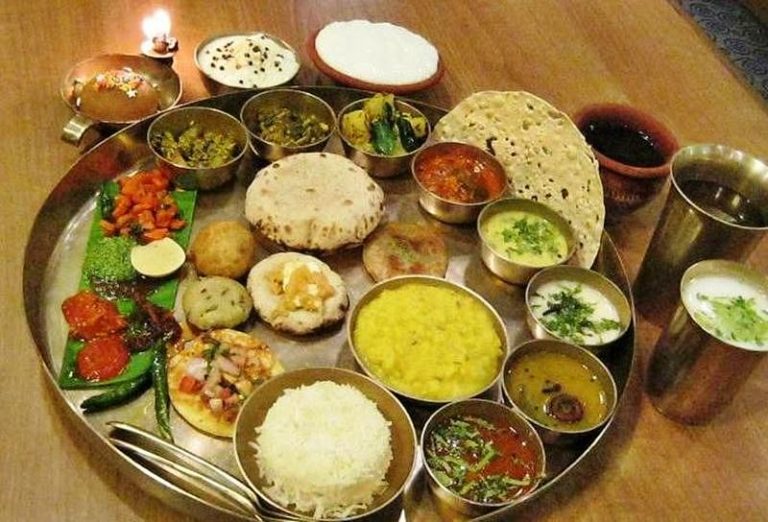 Khandani Rajdhani: Rajasthani and Gujqrati thali
All those who crave a proper vegetarian Gujrati/ Rajasthani thali must visit Khandani Rajdhani. It is a nice blend of the two cuisines. A thali at the Khandani Rajdhani comprises unique dishes such as the Farsan or the fried dal snack, dal bati which is a wheat dumpling filled with sattu mixture, served along with churma, grounded wheat cooked with ghee and sugar. They boast of a variety of bread as well. You could opt for bajra rotl, puri, phulka or even stuffed green peas parathas. The halwa or doodh pak(sweet) round it off as desserts. You could order in from this place.
Bangalore has it all when it comes to food. Thus if you're looking for a satisfying thali, there are quite a few options for you to explore. The above-mentioned places are a good start for a foodie. If you think we've missed out on a few places, do let us know in the comments below. We will feature them in our blog.