"Do good. Be nice. Order pizza. Repeat."
If you can't decide what to have for dinner, chances are you'll end up with pizza. This Italian dish is the ultimate hybrid of comfort and party food. After all, It is hard to say no to Pizza.
However, having a pizza needn't be the last resort or an easy option. The city of Bangalore has some exotic pizzas on offer too. Moving away from the regular toppings and flavours, chefs of pizzerias all over the city, come up with terrific new age pizzas that are delightfully different.
If you're tired of ordering Veg bonanzas and farmhouses and have had enough of pepperoni and non-veg supremes, we would like to introduce you to some of the most interesting pizzas on offer in Bangalore. Read on for five of the wackiest Pizzas that you could savour in Bangalore: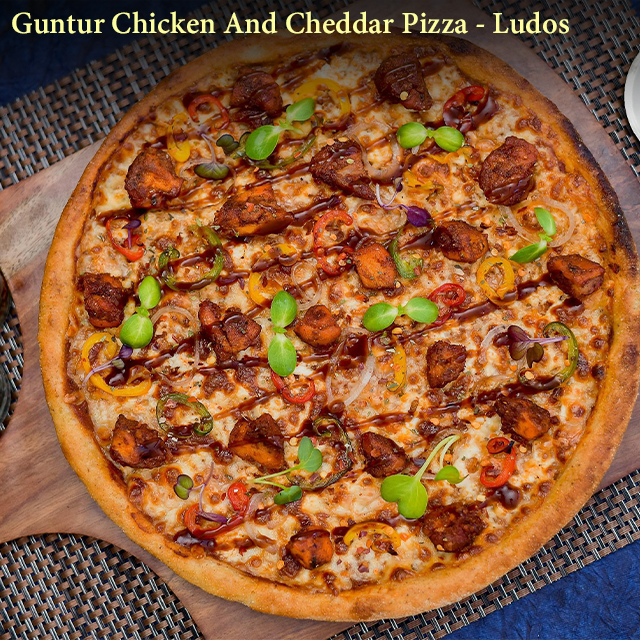 Guntur Chicken And Cheddar Pizza- Ludos
East meets west in this sizzling spicy pizza. A lovely blend of spices are used to flavour the Guntur chicken while the cheddar cheese tempers your tingling taste buds.
If spicy food is what you're looking for, we recommend this wonderful Hand slapped pizza smeared with tangy sauces, topped with caramelized onions and lip-smacking Guntur chicken with a generous sprinkling of cheddar cheese. Pizza Heaven!
Ludo's pizza is fast becoming a favourite among the pizza faithful. Their pizzas are terrific and their prices won't burn a hole in your pocket.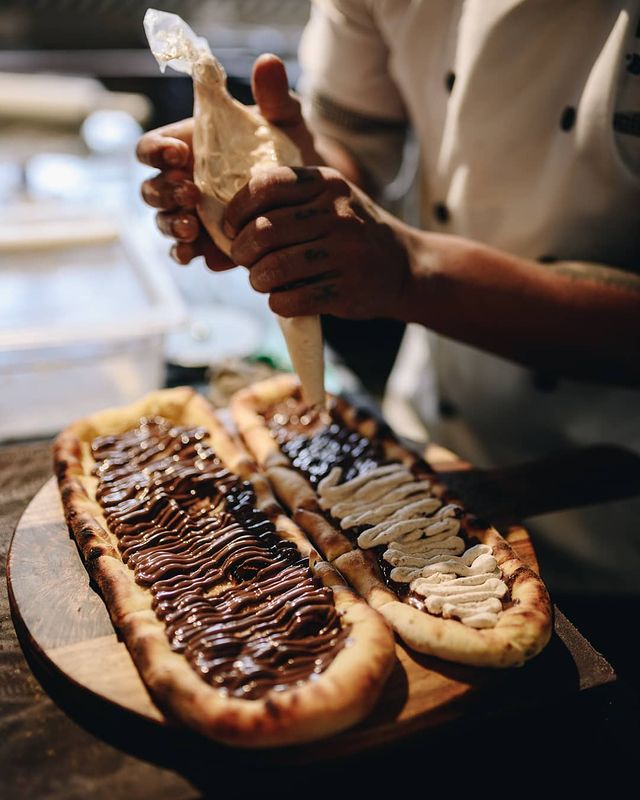 Nutella And Mascarpone Sourdough At The Pizza Bakery, Indira Nagar
No one would judge you for eating Nutella straight out of the jar. Nutella is a crowd pleaser and everything about it is amazing, but leave it to the Pizza Bakery to put a new spin on their signature dish with the magic chocolate sauce. Start or end your meal with this rich and delicious dessert pizza. The dough is freshly baked with cinnamon mascarpone (Italian cream cheese) & topped with roasted almonds. Eggless and excellent!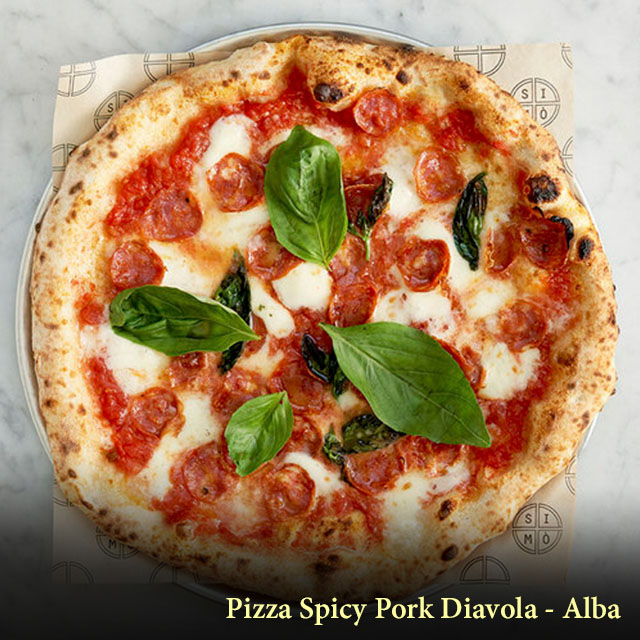 Pizza Spicy Pork Diavola- Alba, JW Marriott
Diavola means deviled and with respect to this pizza, it can mean only one thing – SPICY. The popular spicy pork diavola pizza that is baked to perfection is topped with tomato sauce, pork, pepperoni, and a smattering of cheese. The meat is cooked beautifully and this spicy pizza is certain to bring tears of joy as you dig in.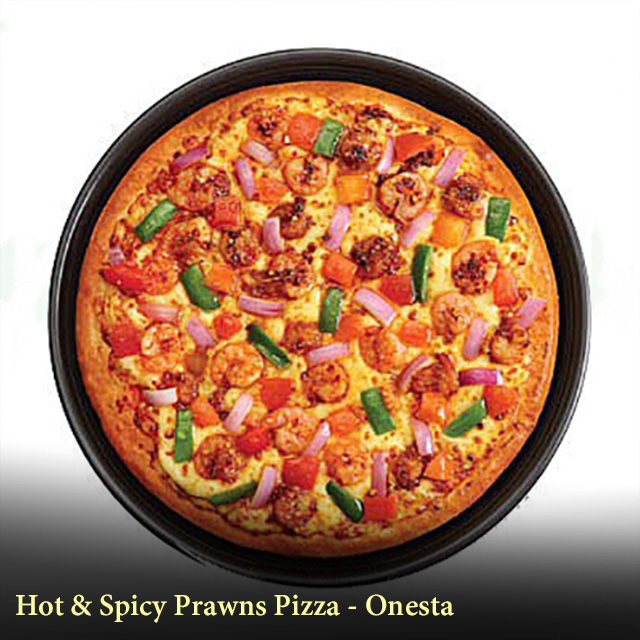 Hot & Spicy Barbeque Prawns Pizza – Onesta
Onesta has a chain of outlets across Bangalore and is a very popular hangout spot for its casual ambience and inventive flavours. The most innovative pizza on their menu is the hot and spicy barbeque prawns pizza. The marinated prawns with barbeque sauce alongside olives, and fresh homemade mozzarella cheese elevate the taste of this unique pizza. The zesty pizza is certain to have you reach out for the dessert menu while your friend orders another one.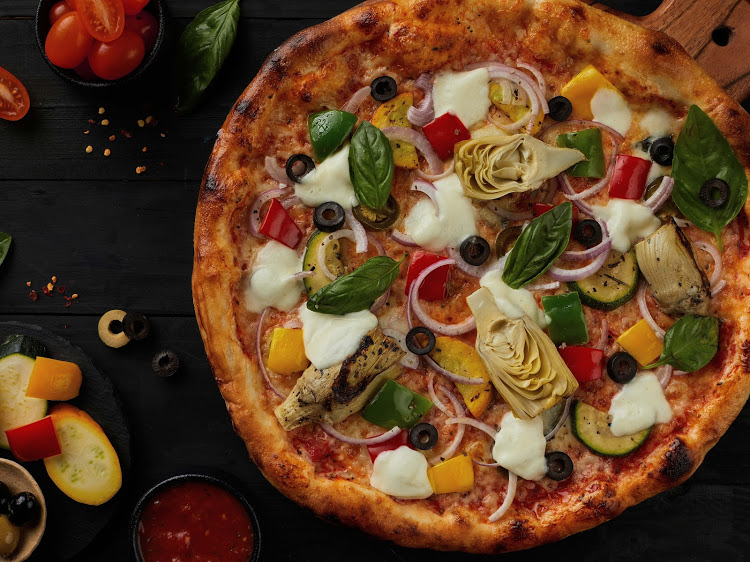 Harissa Chicken Pizza- Toscano
The classic Italian Pizza joint in Bangalore has been a favourite for many for over a decade. They have more than 15 different kinds of pizza, served with a lovely thin crust. While authentic and tasty Italian food is their USP, they surprise customers with some unique pizzas like the Harissa Chicken Pizza. Chicken chunks flavoured with hot harissa sauce alongside, onions, tomatoes, and broccoli make this pizza irresistible.. Teeming with green flavour and this unique pizza is a must-have.
Have you tried these pizzas? Did we miss out on any? If so, do let us know in the comments below what uniquely flavoured pizza should make it to this list.