What screams comfort more than a bowl of steaming noodles on a rainy day? If you're one of those wondering during the monsoon, "where can I get good Chinese food near me", we might have found just the place for you.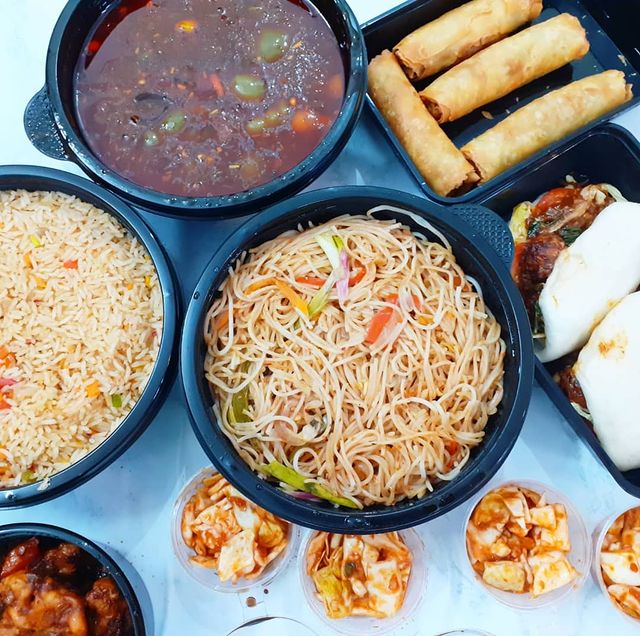 We were in the mood for some oriental flavours, replete with soupy noodles and scrumptious dumplings and so our culinary discovery of the week was a superb takeaway only joint known as 'Box Asia'. This new Pan Asian kitchen draws from popular dishes and exotic options from Chinese, Thai and Japanese cuisines.
The place with the tagline, 'Chinese and more' had some unique Southeast Asian options that were not only exquisite in taste but also did not tug so heavily on the purse strings.
Box Asia delivers in quite a few locations in Bangalore. We ordered from the Jeevan Bhima Nagar kitchen and we couldn't recommend the food more.
With a rating of 4.1/5 by the foodies of the city, this restaurant is surely not worth missing!
What did we order?
Thai- Chilli Bao & Chilli Basil Momos
We are big fans of those stuffed soft Thai buns and if they're on the menu, we would always order them.
The Bao station at Box Asia and we went for the classic version. The chilli chicken bao was a delightful snack with just enough spice under those soft buns to leave your tastebuds tingling.
The momos were momes (mouth melters!). Steamed, soft and spicy to bite into with just a hint of mint. Terrific starter.
Chicken & Egg Thukpa Noodle Soup Bowl
A fragrant, hearty and such a satisfying soup bowl. This Tibetan soup is mildly seasoned with pepper and the soft noodles and dough provide an interesting texture.
KUNG PAO CHICKEN MEAL BOX
The much-loved crunchy Chinese spring roll alongside a wonderfully tangy dipping sauce in the meal box provides a superb start to your meal. The stir-fried cabbage feels great to bite into. The starter had us asking for more and the main noodle dish was delivered in style.
The thin stir-fried noodles served in Hong Kong style with crunchy bits of beans is absolutely delicious. It is served alongside Kung Pao chicken, a tender and well-cooked chicken in a spicy sauce.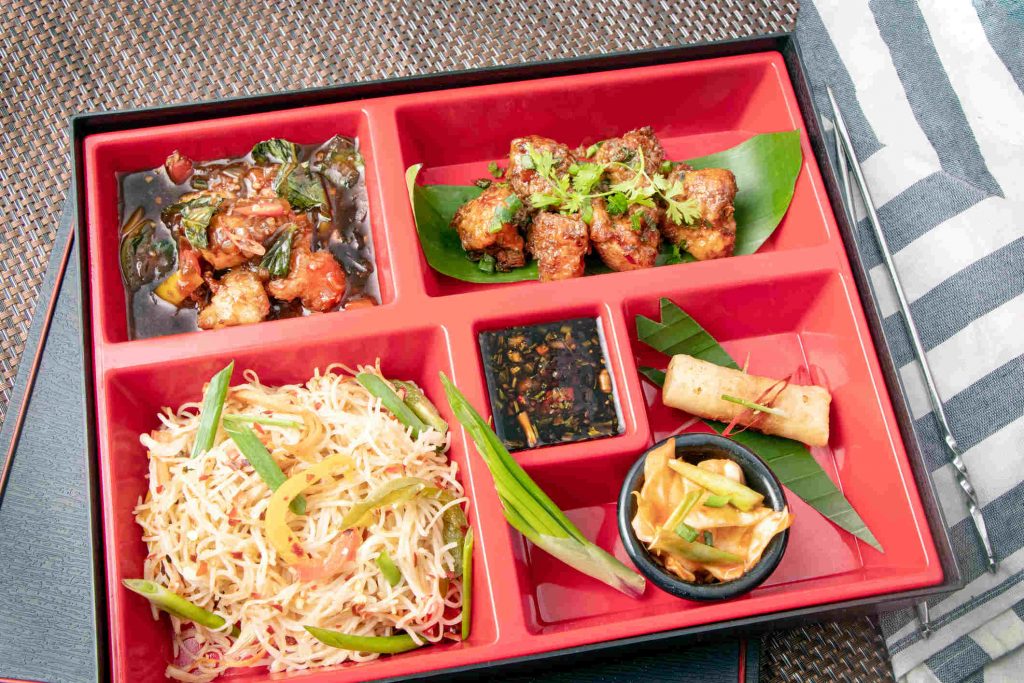 The Packaging
The packaging was neat and adequate. The various food items were separated neatly in compartments inside the meal box. The dipping sauce was provided in a separate container and there was no chance of spillage. A well-packed meal.
This is easily one of the better Asian restaurants in the city of Bangalore. For all those who seek a bit of oriental flavouring, Box Asia is box-office. From Dumplings to Wok Noodles, Baos to soup bowls, they have it all.