What to eat at the food street of VV Puram :
Tell us the street food and we'll tell you which city you're in. Bangalore is known for its vibrant nightlife and at times their amazing street food goes under the radar. The streets of the garden city have some delectable food on offer and V.V.Puram is where you should head to first. The FOOD STREET OF Bangalore is referred to by other names such as Thindi Beedi and Chaat street. From bustling restaurants, tiny kiosks, rolling carts to hole-in-the-wall and quick fix chaat stands, this place has it all. The street is full of life in the evenings, especially from 5 pm to 8 pm.
If it is your first visit to V.V.Puram, then there is a good chance you might get overwhelmed and not know where to go. Here is a quick guide to the culinary delights of the street: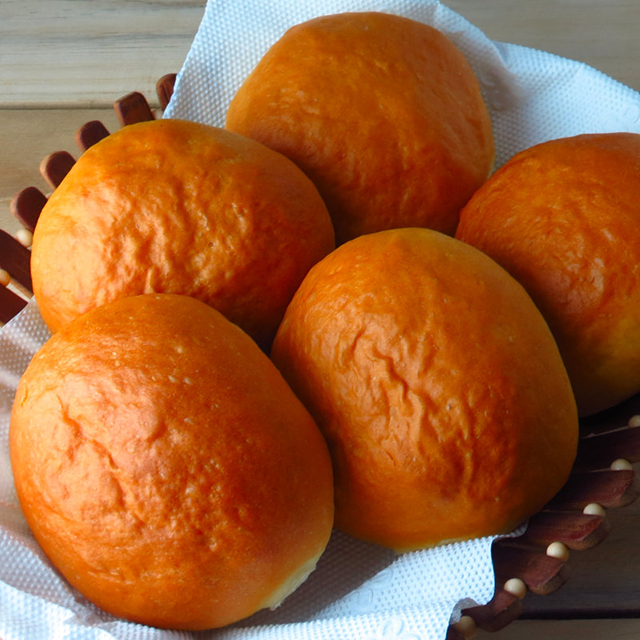 Sweet Buns
Let us start with something sweet shall we?!
GO straight to VB bakery for some hot and sweet buns. Soft and fluffy buns that just melt on biting that you can easily have at least three in one go. These buns fly off as soon as they are out of the oven. Fresh, hot and delicious. Grab some for home too.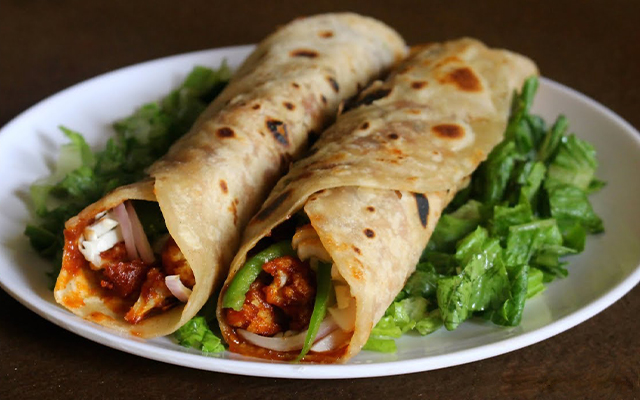 Gobi Manchurian Roll
The Chinese fast food corner serves some essential streety delight. Get your hands greasy with some Gobi Manchurian. Wrap it up in some soft Romali Rotis and lose yourself to the fusion of the sauces and spices. The crispy ghobis are exquisite as well.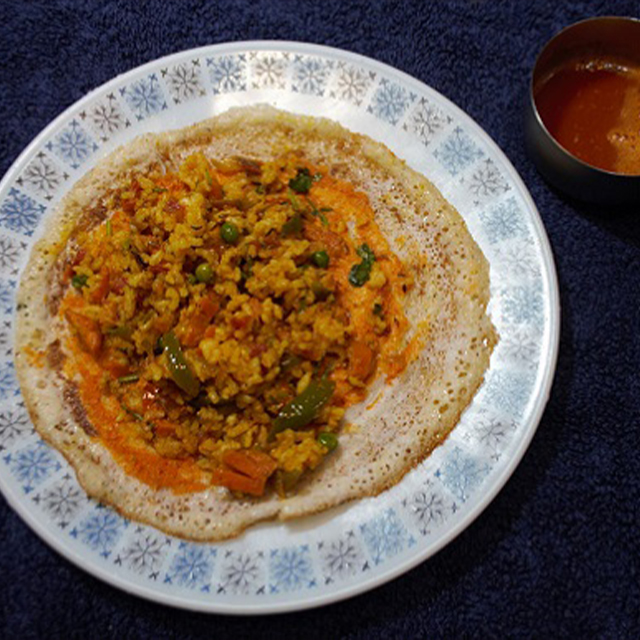 Bath Masala Dosa
Dosa shops of Bangalore are famous for the sheer variety they bring to the south Indian crepe. The ones in VV Puram are no different either. This is the place for the common masala dosa lover and for the person who wants to experiment with paneer chutney dosa. Crispy dosas with rich butter served with colour chutneys and Lemon Rice and Potato Palya is all your taste buds can ask for.
Wondering where you would get breakfast in Bangalore? Click HERE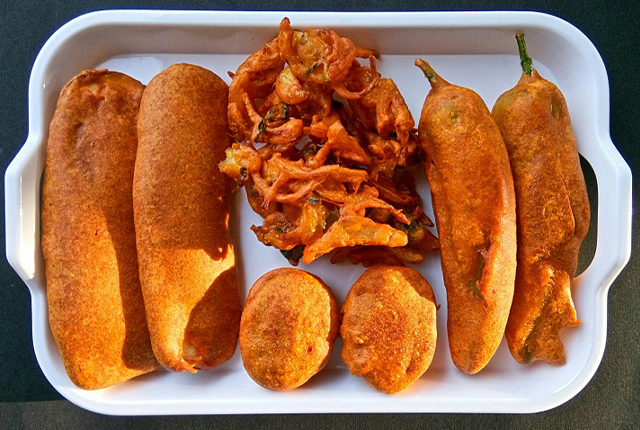 Bhajjis and Bondas
The Bangalore weather demands crispy bhajjis in the evening and V.V.Puram is punctuated with hole-in-the-wall stalls selling 'garam ah garam' crispy bhajjis. You go there for the crunch of the bhajjis and stay for the well-cooked filling. Aloo Bondas, round dal vadas, chilli bhajis, onion bhaji and capsicum bhajjis are served and served with the chopped onions, coriander and carrot.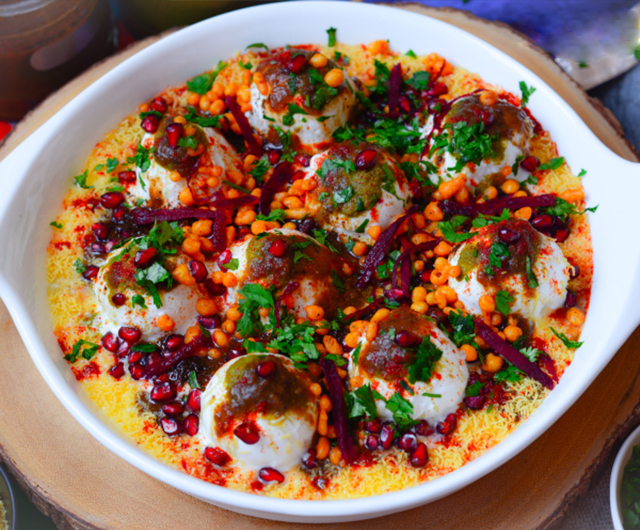 Rasgulla Chaat
A very interesting chaat recipe made with sweet rasgulla and Indian spices. A lip-smacking invention. Soft and succulent Rasgullas are drizzled with yoghurt, tamarind sauce, mint and coriander chutney and a melange of Indian spices. It is also garnished with boondhi , shredded coriander, pomegranate seeds, tangy chaat powder and chilli powder. It's served cold.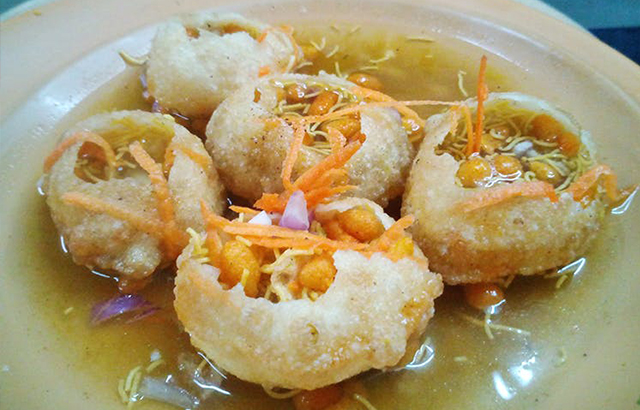 Floating Pani Puri
We are just getting started with our fusion experiments. The floating pani puri is the sukha puri filled with a masala peas mix, sev and peanuts being dunked in a tangy, spicy, sweet chatpata pani. Its as good as it sounds.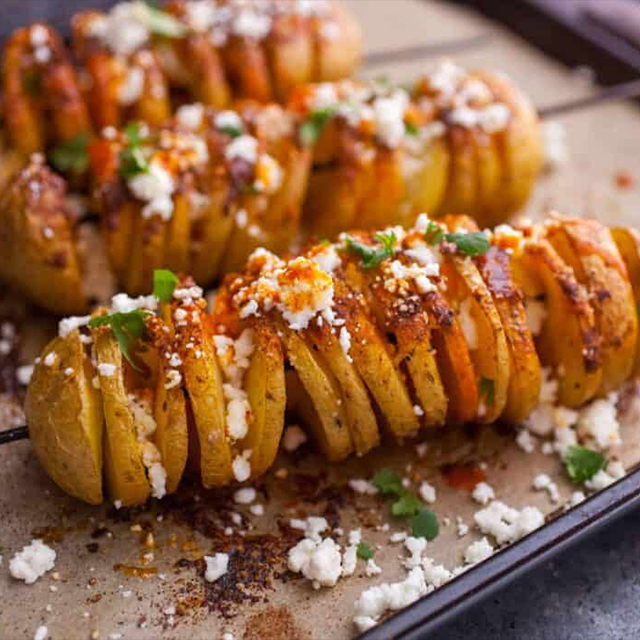 Twister Potatoes
A South Korean snack that is popular in South India. While potato wedges and fries are popular party snacks, nothing beats the potato tornado! A deep-fried spiral-cut whole potato is placed on a skewer, brushed with various seasonings such as onion, cheese, or honey. You also have options to garnish with either chilli or cheese.
Looking for more street food? Check out recommended places for momos in Bangalore HERE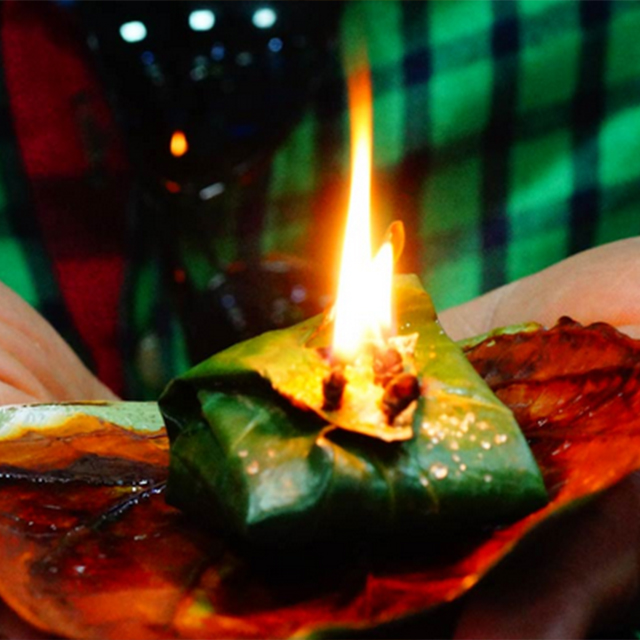 Fire Paan
If you're done for the day, top your street indulgence with the fire pan. The fire pan is the exact opposite of the Maghai pan. There is showmanship involved as the pan wala makes the pan with betel leaves from Kolkata along with chuna, chutney, Delhi masala, chocolate and pudina. Finally, to light the paan, a flame liquid clove is used. You would have to swallow the pan as it is ablaze.
A fiery end to your adventure on the culinary street!